NHS industrial action: Common questions and resources to help you
With NHS staff holding industrial action this winter, this resource aims to help you answer common questions and find out from NHS providers any likely impact in your area.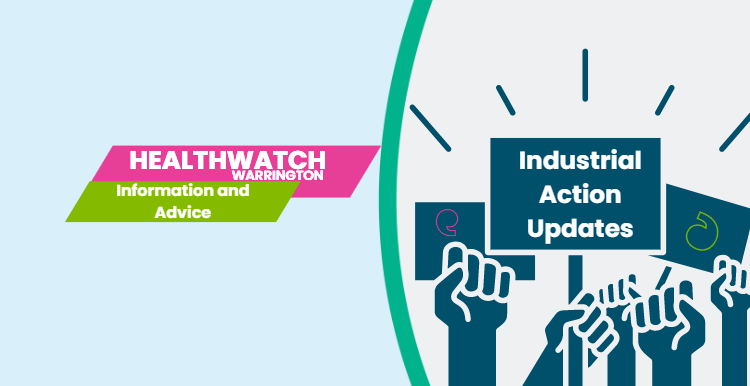 *UPDATED 27TH FEBRUARY 2023
About
With NHS industrial action taking place this winter, this resource includes:
Common questions and suggested steps you can take; and
Template letters you can send to local providers to understand the impact in your area.
Actions you can take
We are meeting NHS England (NHSE) officials regularly throughout the winter to discuss how NHSE and individual NHS trusts can support patients by making sure people get clear and accessible communications about the possible impact of industrial action on their treatment and care as soon as possible.
Steps you should consider locally include:
Urging NHS trusts, to provide full and timely information for the public ahead of any strikes by health workers;
Checking local data on the number of patients whose operations or outpatient appointments on strike dates have been rescheduled;
Using our template letter to ask trusts for assurances that no patients have 'slipped through the net' if their care has been rearranged;
Consider postponing any visits to services on strike dates, to avoid further pressure on services;
Share information with the public, voluntary sector and community groups via your communication channels;
Ahead of strike dates, check with providers and/or ICBs, if they have a named contact you can liaise with on strike days to feed in any urgent patient matters. Alert them of any urgent patient safety issues on strike dates and escalate to your ICB, or us, if it goes unresolved;
Consider carefully any media or public statements about strikes; ensure any response is factual and based on any patient feedback;
Share any patient experience feedback related to strikes with us, so we can flag common or serious themes with national partners; (research@healthwatch.co.uk); and
Share any patient experience collected during strikes with commissioners, your Health and Wellbeing Board or other regular stakeholder forums, to help learn lessons for any future strikes.
Common questions
Where can I find advice for the public?
The NHS England has produced an FAQ you can use to help answer questions from the public about the industrial action.
Which workers have backed industrial action?
Up to 100,000 nurse members of the RCN;
Up to 20,000 ambulance members of GMB, Unison and Unite; 
4,000-plus members of the Chartered Society of Physiotherapy; and
Junior hospital doctor members of the British Medical Association are also being balloted in January.
When will strike action take place?
6 and 20 March: Ambulance strike by GMB at same 7 trusts as in February.
8 March: Staff at all but one of England's ambulance services and workers at Great Ormond Street Hospital and other trusts, will be out in new action organised by Unison.
13-16 March: 72-hour walk-out announced by junior doctor members of the British Medical Association - hospital strike locations are yet to be named but 40,000 doctors backed taking action.
The decision by health secretary Steve Barclay to meet only the RCN this week to finally enter pay talks, has angered other unions and prompted Unison to announce the 8 March Day of action. The junior doctors' ballot result was announced only on 24 February.
So far more than 140,000 appointments or operations have had to be postponed due to the ongoing disputes.
Find out about more strike dates
What does strike action by nurses mean for patient care?
The RCN has agreed national principles so far, that nurses can be exempted from strike action if they provide life preserving care, including:
Chemotherapy;
Dialysis;
Critical care units (e.g. intensive care units and high dependency units);
Neonatal units; and
Paediatric intensive care units.
Generally, other services will be run on a Christmas day- or night duty-level of staffing. This has resulted in outpatient appointments and planned operations on strike dates needing to be rescheduled.
It is up to nurse union representatives at each NHS workplace to agree the exact level of service provision.  Nurses at GP surgeries are not part of the RCN action.
Will A&E departments stay open?
They have been staying open so far. They may be staffed with fewer nurses and more doctors pulled in from other areas of hospitals.
What does the ambulance strike mean for patients?
The unions representing ambulance staff have been negotiating with each individual NHS ambulance trust to agree how the most urgent calls are dealt with on strike dates.
So far, they have been covering Category 1 life-threatening calls – such as road accidents or where the person has stopped breathing.  Some or all 'Category 2' calls – such as for people having a stroke - have been covered too, with paramedics coming off picket lines to respond as and when necessary.
In less urgent cases, call-handlers have advised people to ask family or friends to transport them to A&E.
On the first ambulance strike days, fewer people than normal called 999 and 111. This led NHSE to change its messaging, to remind people to still seek help for genuine, life threatening emergencies and to contact 111 for medical advice when needed.
Local Healthwatch can check with their local ambulance trust, what agreements have been reached with unions about what kind of calls will be affected.
What will physiotherapist strikes mean for patient care?
The Chartered Society of Physiotherapy says it intends to maintain an emergency respiratory on-call service throughout any days of strike action.
But otherwise, services will be similar to Christmas Day cover.
Physiotherapists and physiotherapy support workers provide rehabilitation to prevent people being admitted to hospital or to help speed up the discharge of patients. So fewer staff on duty could affect the current efforts to tackle hospital discharge delays and improve the 'flow' of patients through hospitals from A&E.
How will patients find out which local services are affected?
NHS England (NHSE) has written to trusts that they should provide "clarity to patients and staff around service provision on days of planned industrial action through early notification and communication".
Healthwatch England has met with NHSE and Department of Health and Social Care officials, calling for full and timely communications to patients whose care is postponed, inpatients and the general public.
How and when will patients be rebooked if their appointment, test or operation is postponed?
NHSE has told trusts to "contact patients directly should their appointments need to be rescheduled". We have urged NHSE to ask trusts to give patients a new date at the point of postponement or tell patients when they will get their new date. The onus should be on trusts contacting patients and not the other way around, we have said.
What have we said publicly about the strikes?
We have called for the NHS to:
Prevent public confusion
Make clear life-saving intervention is available
Support people if care is delayed
Share clear contingency plans
Before Christmas we met with nursing and ambulance staff union leaders to discuss their plans to protect patient safety.